It's been a real long time! Did you wonder what happened to me? Frankly, after a rocky end to 2011, I was almost afraid I won't make it through to 2012 sane. Perhaps what I thought is right. Life's a bitch and all you need to do is endure the next second and before you know it, days would have flown pass. I hope someone had told the same thing to those who had decided to end their lives in Bedok Reservoir last year. I am living each day a day at a time. Though people say there's nothing too tough to overcome and someone somewhere in this universe must be having a more shitty time than I am, I am still not convinced that my life has to be this living hell. My RO once told me, that life is what we make it. We should not let others take away our happiness. It's not fair to ourselves. I guess this is what kept me going. Thank you Mdm Haslindah!
Like what I've predicted, weeks went by I have not done much craft work. The patchwork books I ordered online before Xmas finally came sometime last week, but ... I don't know if I will ever get to do anything from there at all... I ended 2011 by making these ribbon ties for my niece Charlene. How does my improved version look?
I tried to make pins for Caylene but I do not have the right glue to stick the ribbon onto the metal pin.
So I guess Project Recycle is on hold until... My school holidays?!?
I only managed to squeeze in time for this bean sprout cover bolster for Baby Ayden.
I was pleasantly surprised to find this blue fabric in my stash. Why on earth did I buy it? Call it a foresight! My first time making, and I feel like I am on project runway or something as I only allocated one night to work on it. It joins in my range on the imperfection line, but hey... The sincerity is PRICELESS ok? Though Serene tried very hard to talk me into making an extra cover for Baby Ayden.... I am sorry, my friend. It is not happening. Babies get attached to eye smell on the bolster. It's not the same to them if you change to a different cover. Trust me. THEY KNOW.
Anyway, the past 3 weeks was like a roller coaster ride. I had spent my week 1 busy at work. There was lots of getting used to now that I am back being a form teacher. Lots of admin work which I had been spared from for the past 4 years. And yes, I had to bring work home to do. There were nights I had to stay up past 12 preparing stuff for school. Very thankful I can now get to school in 30 mins. So far the timing for the buses are quite fixed, so I always get to school in good time.
New school itself is a lot of getting used to, but so far, I must say I am happy here. I hope this feeling will continue to stay.cand I would stay here for good. Transferring school is quite tiring... All the packing, moving and unpacking ...zzzz
I spent most of my week 2 coping with my Masters Class. I had 3 nights of classes and it was totally exhausting. I am however very thankful to meet very nice people, who offered to pick me up from Serangoon MRT on class days and would drop me off there after classes. It saved me at least half an hour of traveling. I am quite surprised that most of the people in my class are not my age group, and there are no primary school teachers like me. I feel quite out of place and it gives me jitters to think about it. I am really crossing my fingers that I will make it through safely.
During these 3 days, I am burdened with guilt that I couldn't spend time with JTs. Once I arrived from home, all I wanted to do was to give them a good hug. As JTs birthday fell on my course night, we celebrated in advance for them the weekend before. Here's the 4 golden flowers having the birthday cake at the table.
Photo was quite poorly taken, but I was trying to capture THE moment ;p
Finally one piece of furniture that didn't end up as a mistake. JTs enjoy having snacks at the table.
Here's JTs. Did you miss them?
Here's Jovelle, who is more sensitive to the camera...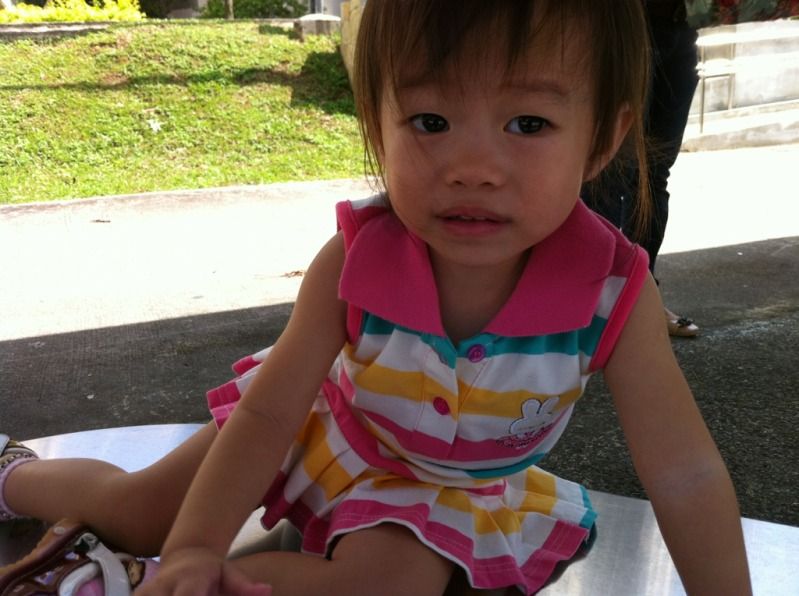 Here's Jolyn. I think they look very chio in this tennis attire look-alike. YES! They shall learn tennis when they grow up!
Here's Joyn and Jovelle posing for the camera....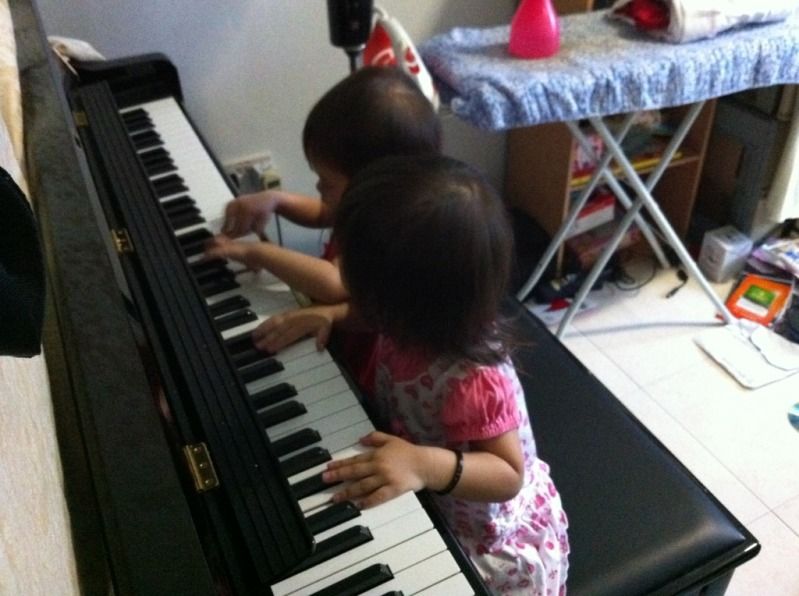 Here's JTs playing the piano...
Some of my friends SMS me to wish JTs happy birthday. Can you believe that?!? Till today, I have not received any to wish me happy birthday. My friends, you have another 39 hours or so to do it before my birthday is over!!!!
I spent week 3 worrying about the assignment which it's deadline for submission in impending... !!!! I am glad to say that as at 4.30am this morning, I managed to complete 4/5 of my 1st draft. I can spend the remaining nights till Wed to work on improving it. Can at least enjoy my CNY without worrying about not having done anything about it.
Speaking of CNY ... I wonder what happened to the festive spirit. Did I outgrown it? It's been pretty quiet and I don't really have the feeling that today's CNY eve...
Happy CNY to all! Hope I will be able to update more frequently. Thanks for sticking around!
Posted at 10:17 am by xiaofu
Permalink